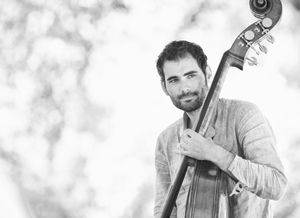 Double bassist and composer Garth Stevenson, was raised in the mountains of Western Canada, where nature became his primary inspiration and the common thread between his life and music. His three full-length solo albums, Alpine, Flying, and Voyage, are informed by his experiences carrying his 150-year-old double bass to the woods, beach, desert and other remote locations including Antarctica and Tuva. Of Flying, iTunes praises, "Garth Stevenson joins the likes of Brian Eno and Sigur Rós as a practitioner of this ethereal yet accessible genre… 'The Southern Sea' offers the aural equivalent of effortlessly swimming underwater without ever needing to come up for air."

His month-long journey to Antarctica in 2010 aboard the icebreaker, Ushuaia, was home to author Cormac McCarthy, actress Juliette Binoche, artists Todd Murphy, Gregory Colbert, and others.  Stevenson played his double bass among seals, penguins, and icebergs while composing the score and acting in Scott Cohen's feature film, Red Knot, which stars Vincent Kartheiser and Olivia Thirlby. Also onboard was Roger Payne, the renowned whale researcher and first to record humpback whales in the 1960′s. "I spent a few weeks prior to the trip learning to adapt whale calls on my bass by playing along with Roger's album, Songs Of The Humpback Whales. One evening, in the middle of a four-day open sea crossing between South Georgia and Antarctica, I gave a concert at sunset on the bow of our ship. I was improvising and creating layers with my loop pedal then started imitating whale calls on the bass. A few minutes later twelve sei whales came and swam next to our vessel!"
Stevenson's connection to whales and conservation has continued over the years. In 2015, he performed at the World Science Festival at the Museum of Natural History in New York, as part of a special program about Arctic whales. His music has been used by Sea Legacy, an ocean conservation group headed by photographer Paul Nicklen. In May 2019, Stevenson performed and participated at the Ocean Plastics Leadership Summit on board the 

RCGS Resolute which departed from Bermuda and headed into the North Atlantic plastic gyre. The summits brought together 

representatives from environmental groups such as Greenpeace, World Wildlife Fund, National Geographic, 
5 Gyres, Ocean Plastic Project, with companies that use or produce plastic including Dow Chemical, Nestle, Procter and Gamble, Coca-Cola, and HP to collectively work on solving the problem of ocean plastics pollution.
 In September 2019, Garth played his bass for sperm and pilot whales off the coast of North Carolina where the Gulf Stream meets the continental shelf.  On a boat with scientists from the University of North Carolina recording and monitoring the musical interactions using hydrophones. Garth played music for sick sea turtles at the Karen Beasley Sea Turtle Rescue and Rehabilitation Center. 
As a film composer, Garth's most recent work was scoring VAL, a documentary about Val Kilmer. Garth collaborated for the second time with director John Curran (
The Painted Veil
) on the 2017 biographical drama
Chappaquiddick
,
starring Kate Mara and Jason Clarke. Curran and Stevenson's first collaboration was on the 2013 dramatic biography,
Tracks
which featured Mia Wasikowska and Adam Driver. Stevenson's music accompanied the character's long desert trek with an ethereal score that blows through the film like a warm breeze.
Garth scored the snake thriller
Them That Follow (

starring Olivia Coleman

)
, which premiered at the 2019 Sundance Film Festival.
In 2014, Stevenson lent an anguished beauty to the Antarctic-set drama
Red Knot
(which he also has a part in), and sensitively scored the PBS
Independent Lens
documentary,
Young Lakota
—which tackled a story about life on the Pine Ridge Reservation, politics, and abortion. Other notable projects include the 2015 drama
10,000 Saints
(starring Hailee Steinfeld and Ethan Hawke), and the documentary,
Resilience,
which premiered at the 2016 Sundance Film Festival. Garth's work can be heard in the drama
Tater Tot & Patton
(starring Jessica Rothe and Bates Wilder),
Seed: The Untold Story
, the biographical drama
The Grizzlies.
He composed
three political shorts for Represent Us,
Unbreaking America,
starring Jennifer Lawrence and Michael Douglas, Conscious Point, a documentary about the Shinnecock Native Americans for PBS, and Relative, a film by Tracy Smith.
Garth Stevenson has been leading Music Meditation Hikes for the past ten years. With his double bass strapped to his back, he leads groups on hikes to beautiful locations in nature where he improvises music that blends and interacts with the natural environment.
Stevenson introduced his music to the yoga community at the Wanderlust Festival in 2009 where he improvised during classes and led large groups of hikers into the mountains to perform his solo music. He performed at the world's largest yoga class in Central Park for 13,000 people and for France's largest yoga gathering in history for over 3,000 people in front of the Eiffel Tower. In 2008, Stevenson was awarded the International Society of Bassists composition competition first prize for his innovative piece "Grandfather: for double bass and electronics" and subsequently served as a judge for the competition in 2010. Stevenson is a four-time grant recipient from the Canada Council for the Arts. Stevenson is a founding member of 5707, the ambient duo with guitarist Ryan Ferreira and TAQ, a polish piano trio with Marcin Masecki and Ziv Ravitz. He is well known in the New York improvised and experimental music scene having collaborated with Mat Maneri, Craig Taborn, Ornette Coleman, David Tronzo, John Shannon, and toured with Petr Cancura's Down Home band.  In July 2012, he traveled to Tuva, a Russian province on the border of Mongolia, for an artist residency. There he performed and collaborated with world-renowned throat singers including Alash Ensemble, Huun-Huur Tu, Kongar-ool Ondar, Andre Mongush, and the Tuvan National Orchestra. As a freelance bassist, he has recorded on over 50 albums. 

Stevenson attended the Berklee College of Music on a full scholarship and received a degree in Performance and Jazz Composition. He has appeared on David Letterman, Craig Fergusson, at Bonnaroo, and other music festivals in Europe, Japan, Russia, Canada, and South America.